Woodward Performance
Woodward CF series,
Power Steering Racks for Road Racing.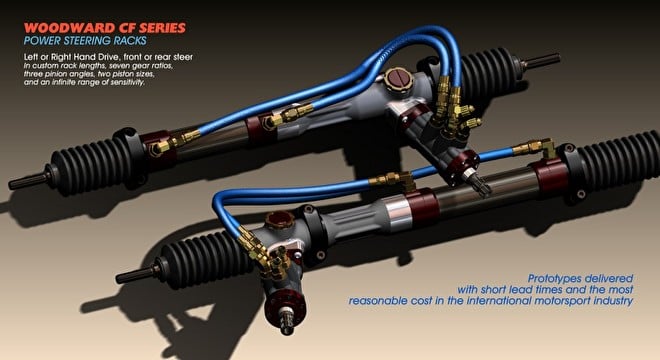 The Woodward CF series is the revolutionary answer for racing applications where packaging requirements previously dictated a reliance on power racks of the passenger-car type, with their limited potential for performance at the level required in professionally built race cars.
2022 CATALOG DOWNLOADS

A pure racing design based on our more than 30 years experience and manufactured entirely in our own plant, the CF group constitutes the broadest selection of racing power steering racks offered anywhere in the world.
Several models are currently FIA homologated as original equipment.
Lead time for a prototype is typically four weeks after model approval. Production quantities can be delivered on a schedule to complement your race car production.
CATALOG PDF FILES:
1. Power Steering Racks for Road Racing, type CF.pdf
2. Power Steering Racks for Road Racing, type MR, MRC.pdf
3. Power Steering Racks for Road Racing, types HL, GL.pdf
4. Power Steering Racks for Oval Track Racing, types GE, HE.pdf
5. Heavy Duty Manual Steering Racks, types JL, JLR.pdf
6. Ultra Lightweight Manual Steering Racks, type MC.pdf
7. Steering Universal Joints, Splined Couplers and Shafts.pdf
8. Safety Steering Columns and Quick Releases.pdf
9. Tie Rods and Suspension Links.pdf
10. Power Steering System Components.pdf
11. Rack and Pinion Mechanical Parts.pdf